The Last Devil to Die (The Thursday Murder Club, Book 4)
Richard Osman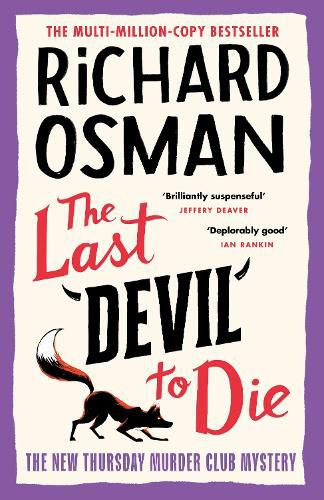 The Last Devil to Die (The Thursday Murder Club, Book 4)
The fourth book in the record-breaking Thursday Murder Club series from British national treasure Richard Osman
Shocking news reaches the Thursday Murder Club.
An old friend in the antiques business has been killed, and a dangerous package he was protecting has gone missing.
As the gang springs into action they encounter art forgers, online fraudsters and drug dealers, as well as heartache close to home.
With the body count rising, the package still missing and trouble firmly on their tail, has their luck finally run out? And who will be the last devil to die?
Review
This newest addition to Richard Osman's Thursday Murder Club series was my introduction to the unconventional retirees from Coopers Chase. Some may be appalled that I didn't start with the first title in the series, but I've always felt that if the books are good it doesn't matter too much. That is indeed the case with this charming, witty, entertaining, and, at times, moving book.
Each of the four main characters – Elizabeth, Joyce, Ron, and Ibrahim – have individual qualities and skills from their pre-retirement lives that contribute to their hobby of solving local murders. It certainly helps that Elizabeth is an ex-spy, and the gang appears to be on reasonable terms with the local coppers, even if the coppers are somewhat frustrated with the amateur sleuths!
An antiques dealer (and good friend) of the Coopers Chase crew has been found shot dead on Boxing Day, and despite being encouraged to stay away, they get to work. The arrival of Senior Investigating Officer Jill Regan of the National Crime Agency, and her team, immediately puts the locals offside and raises the stakes.
A fascinating melange of regional heroin dealers, dodgy-antique-dealer behaviour (I feel the author may have been ripped off once or twice), art forgers, academics, and gentlemen crooks (a slight Jason Statham good-guy/bad-guy feel) made for a perfect couch or rainy day read.
The action is interspersed with some side stories taking place among the residents of Coopers Chase, which were entertainingly placed, dangling as possible additions to the main narrative.
I'm looking forward to catching up on the earlier books in the series and with these endearing characters who made me think of the Secret Seven or Famous Five, if some of them had lived fuller lives than previously thought possible, with good doses of overseas travel, cultural training and unconventional career paths.
This item is in-stock at 8 shops and will ship in 3-4 days
Our stock data is updated periodically, and availability may change throughout the day for in-demand items. Please call the relevant shop for the most current stock information. Prices are subject to change without notice.