Doll's Eye
Leah Kaminsky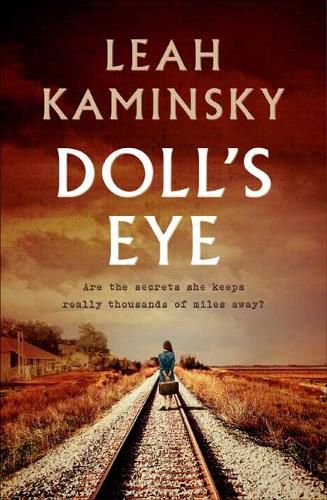 Doll's Eye
Sometimes there may be more to things than meets the eye.
Germany, 1933. Anna Winter returns home to find her father mysteriously disappeared and a note he's left warning her of grave danger. She flees overnight, taking her precious doll collection with her, and sets sail for Australia to lose herself in the outback. She lands a job at the Birdum Hotel and carves a new life, hiding her past from the world - until a chance encounter with an eccentric stranger, Alter Mayseh, changes everything.
Australia, 1938. A Yiddish poet fleeing persecution, Alter has seen the writing on the wall for his people. Armed with a letter of introduction from Albert Einstein, he manages his own escape from Europe and arrives in Australia in search of a safe place to call home. When fate leads him to Anna, he's convinced he's found his future with her. But a disturbing clue to her dark past threatens to unravel the delicate life she has built on top of the secrets left behind.
Shifting in time and place, Doll's Eye weaves an intriguing story of love, loss and survival against a backdrop of war and displacement. Evocative and compelling, it brings into question the gap between what we see, and what we don't.
Review
Karin Magnussen was a Nazi scientist who was complicit in research into the pigmentation of irises to provide scientific proof of Nazi racial theories. Originally, her research was done on rabbits, but later it was conducted on humans with the collaboration of infamous SS doctor Josef Mengele. In Doll's Eye, Anna Winter's father is the driver for a renowned ophthalmologist and Magnussen's mentor. The different pigmentation of Anna's eyes attracts their attention and puts her in danger; when her father disappears suddenly, Anna follows the instructions he leaves and escapes to Australia.
A few years later, Anna is managing the local pub in Birdum in outback Australia; it's a connecting point for the train to Darwin and passengers often stop off in Birdum. One passenger is the charming, eccentric Yiddish poet Alter Mayseh, who has come to Australia to get as far away from Hitler's Europe as he can. He recognises Anna's accent and strikes up a conversation in German. Floods then delay Alter's departure. Anna is captivated by his worldliness and by his poetry; Alter is attracted to Anna's air of mystery and her reluctance to share her past. She is, however, willing to share her future and accepts Alter's offer to leave with him.
Leah Kaminsky skilfully weaves the two stories of Anna and Alter against the backdrop of war in Europe and the emergence of a new Australia. Slowly, Anna's shocking story is revealed, only to dash her relationship with Alter. Kaminsky's novel is a fascinating and riveting insight into how the turmoil of the '30s and '40s impacted people's lives, and changed societies.
This item is in-stock at 8 shops and will ship in 3-4 days
Our stock data is updated periodically, and availability may change throughout the day for in-demand items. Please call the relevant shop for the most current stock information. Prices are subject to change without notice.